bleuKen 1.0 is the official blog site of Felixberto Baguyo, Jr., a SEO Consultant, SEO Specialists, programmer and teacher from Roxas City, Capiz Philippines. I am a fan of different anime that's why the nick that I choose was kinda "anime-like nick". I actually take the bleuken nick from two words, "bleu" which is misspelled color blue and "ken" from an anime named KenShin in Samurai X which mean "sword".
I am a Database Programmer and working as a full-time faculty member of a college in Roxas City, Capiz. I handled programming and basic computer skills subjects. BleuKen started to be known to the world of SEO in the Philippines when he won a mini-SEO contest in the Philippines, the PMT (Pinoy Money Talk) SEO contest. Aside from this cyber activities of bleuken, he also loves to play serious chess. He actually won a chess tournament in Roxas City, Capiz. So his site will contain some stories about his experience in chess.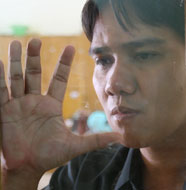 For your information www.bleuken.com is the first ever paid domain bleuken made for himself and his planning to consolidate all of his tips he made online regarding different things from removal of different strain of computer viruses, computer security, programming, windows tweaks, SEO tips and other tips that maybe helpful to everyone in the Philippines and the world.
Here are some of the basic facts/trivia about me:
Highest Educational Attainment: MSCS (still studying)
Programming Languages: Visual Foxpro, C, Assembly, Visual Basic/.Net, PHP
SEO Competition Won:
Pinoy Money Talk (PMT) SEO Contest
Srednarb SEO Contest
Top 16 – Busby SEO Challenge (International)
Services:
SEO Consultancy
Programming and Web Design Services (Philippines only)
Membership/Affiliation:
Capiz Chess Association, Inc.
SEO Philippines
Contact Information