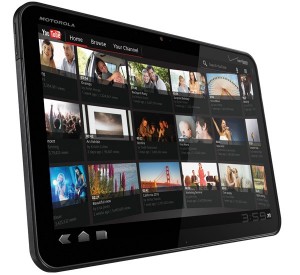 While looking for the latest tab today, I just found this newest gadget from Motorola named Motorola XOOM. This is said to be the first smart phone tab that will be using Android 3.0 (HoneyComb) with dual-core ARM-based Tegra 2 chipset and 3D Graphics Accelerator. This said iPad competitor will be released on February 24, 2011 in the US (not yet official) using Verizon as the data service. Latest news about its price states that it costs about $1,199.99 excluding the monthly worth of Verizon's data service. That's really expensive. I am wondering how it will cost in the Philippines if it arrives. Maybe it will reach up to P60K or more. If it will be its price then how can it compete on iPad 64K which only costs P35K?
Well maybe the specifications of the newest Motorola XOOM makes it really that costly. Here's the specification of this tab:

Dimension: 9.80 x 6.61 x 0.51 (249 x 167.8 x 12.9 mm) – much bigger than the iPad.
Weight: 25.75 oz (730 g) – same weight with iPad
Screen: 10″ Touch Screen with 1280 x 800 pixels resolution
Operating System: Android 3.0 Honeycomb
Processor: Dual-core NVIDIA Tegra 2 1000Mhz
Memory: 1024 MB RAM with 32GB Built-in Memory and can add a maximum of 3GB microSD/ microSDHC
Camera:  5 MP with dual LED / 2MP Camera
Video: 1280×720 (720p HD) (30 fps) / MPEG4, H.263, H.264
Audio: MP3, AAC, AAC+, AMR
Connectivity: Bluetooth, USB, Wifi, HDMI, DLNA
Batterly Life: Unknown (no information about this yet but I am hoping that it will be much better than the Samsung Galaxy Tab)
Later, I will just update this article if in case this gadget is already available in the Philippines.