I've been ordering gadgets and stuff online in different online stores and if you're reading some of my posts I've been ordering some of them in places like Play Asia, Multiply and eBay but since Multiply.com has been closed, I tried to find an online store. I tried Zalora to order for my wife's maternity dress and well we're quite satisfied with it. Then, I always saw LAZADA (in Google and Youtube ads) and even one of my staff ordered from them so I was intrigued and visited the site. I like the product listing and decided to order.
Here's the "chronicles" of my Lazada Philippines good and bad experience (to summarize – this chronicle simply tells how fast Lazada delivers your order but they can send a wrong item and the return process of this company is surely a lengthy and stressful process. I should have avoided this site in the first place! The lessons I've learned: try reading reviews first before engaging any transaction in online stores like this. In my case, I read reviews after I start a transaction with them and I'm reading a lot of negative reviews. I thought my experience will be as great as my experience with other online stores and write a positive review about this company 🙁   )
9/9/2013. I made an order to them. I ordered 6 different items and made an installment payment via my BDO Credit Card.
9/10/2013. They confirmed, verified and shipped my order.
9/11/2013. I received all the item via LBC (this is the good thing, its fast right? Now the bad thing follows) but I find out later that I received one wrong item. I ordered for a Buffalo Airstation High Power Gigabit Dual Band Wireless Router worth P4,990.00 but instead they sent me a non-dual band wireless router. I actually found out about it when I test the item if it got two frequency as the specification said in their website, it should have 2 band frequencies, 2.4Ghz and 5Ghz. I find out that it has only 1 frequency, a 2.4Ghz and it only send 150Mbps instead of 300 Mbps as specified on the description of the website.
9/12/2013. So, the day after I received the item, I decided to return it via LBC with the the filled up Return Form as per required by LAZADA.
9/13/2013. Based on LBC's tracking facility and email from LAZADA, they received the return item and they will evaluate it within 5 business days and process the replacement in 5 business days.
9/18/2013. I thought the 5 business days includes weekend so I emailed them checking if the evaluation for my returned item is already done. They replied and inform me that they already sent a follow up email to the returns team of Lazada to expedite the evaluation and the replacement process.
9/19/2013. I sent a follow up email again to get an update on the said issue and didn't receive any reply from them so in the afternoon I called their customer service and sad to say, they don't have any update yet and said to me that it is only the 4th day of the period that they specified for the evaluation and the 5th day will be on the next day and possibly they will be finished with it. Now, I begin to become impatient already.
9/20/2013. Friday, I didn't receive any email from them in the morning so I called the CS again for the 2nd time in the afternoon checking any update. Still, I can't get any sure information yet regarding the status of the transaction. The CS girl is saying again that they will email their back office to follow up it.
9/23/2013. I decided to email them via the Contact Us page of the site specifying my order number in the email and creating a new ticket. I thought they might reply much faster and get an update immediately. But I was wrong again. They are asking for the details that I already given to my previous email so I resend the follow up email to the previous ticket and I didn't get any reply again.
I called their customer service again. It's the same reply from their CS "they will follow it up." It's like I am talking to an answering machine, getting the same reply from them. This is hopeless! My stress adds up when a friend of mine tell his story that he experience the same. He didn't receive any replacement from this company and he sent the return item last September 2. Woah, this might happen to me too.
So I decided to twit them and post a message in my Facebook wall and Lazada's wall in trying to get their attention. I even posted a complaint review at http://www.pissedconsumer.com/reviews-by-company/lazada-philippines/fast-delivery-wrong-item-slow-on-processing-returns-20130923448719.html. I hope they see it and immediately act on it.
Then, I already email BDO, inquiring if I they can hold the payment transaction I made on the said date and waiting for their reply.
9/24/2013. Today, I'm planning to call BDO hotline to request to hold the payment (Update: I didn't call them yet, I'm busy today so I might call them tomorrow.)
I received two emails from them and it contains the same content, i.e., they will follow it up to their return team. In other words, there's still no update on the return item.
9/25/2013. I emailed them again and after 30 minutes someone called me from Lazada telling me that they don't have the stocks for the actual item that I ordered and they will refund me within 2-3 business days. They should have informed me earlier and I should have avoided the stress that I have experienced for the past few days waiting for their update.
I also told them that the item I ordered is still displaying on their website with 4 stocks left (see image below). Its like a trap waiting for another online shopper to be lured and suffer the hassle and trouble of shopping with them. Now, I'll be waiting for their refund and I hope they will process it as they have promised.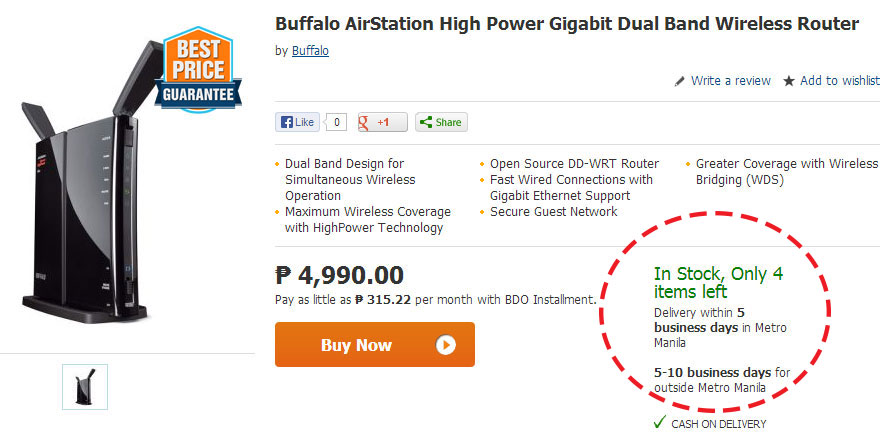 If I will be giving Lazada Philippines  a grade or rating for their services based on my experience with them, the following will be their grades  :
Delivery of Goods: 1.0 (Excellent,  Fast Delivery. LBC Roxas have been very helpful.)
Accuracy / Correctness of Delivered Item: 3.00 (Almost Failed, they delivered 1 wrong item out of 6 item but its price is almost half of the total cost of the 6 item so I gave them 3.00)
Customer Service: 3.00 (they are friendly but can not provide immediate solution or update about your concern).
Processing of Returns: 5.00 (Failed and they need a lot of improvement with their return system. They should have updated me immediately that they can not replace my order because the item is "OUT OF STOCK")
Processing of Refunds: INC (Incomplete, I am still waiting for their refund)
Final Grade: 3.0 (Almost Passed. Not recommended for online shoppers who want a hassle free experience but if you want to try them then shop from them at your own risk!)
Update: I email them last night (9/26/2013) to ask if how they will refund me with the current payment method I used, i.e. 6-months installment using my credit card, and how they will adjust it since the installment got an interest based on the total cost of the transaction. Up to now they are not replying yet.
Actually, prior to yesterday, they called me apologizing and saying that they read my blog. They are explaining something about my payment method and the refund but every time they are trying to discuss it (they call me twice), the transmission became poor and so "chappy" so I asked them to call again but they didn't call again after that. More updates later about the status of my REFUND from LAZADA.
9/30/2013. I emailed them again for the third time, trying to follow-up about my inquiry regarding how they will process the refund as I mentioned above. I didn't receive any reply from them yet as of this update.
I called their CS and still there's no update about the refund. It seems Lazada really sucks big time when in terms of updating their customers about a certain transaction. They told me I will get an update about processing the refund in 2-3 business days but up to now, I didn't receive any message or reply from them.
However, I receive an email from BDO telling that I should coordinate directly to Lazada (which I am doing via email and call) to cancel the transaction to them and the adjustments on my credit card will reflect within 14 banking days. I will update this post to let you know if I already received the refund.
Update: I saw the reversal of my payment on my current credit card billing statement.