The undefeated American boxer Floyd "Money" Mayweather Jr. will be fighting against an undefeated Mexican boxer, Santos Saúl Álvarez Barragán also known as El Canelo on September 14 at the MGM in Las Vegas, USA. The said match will be for the WBA Super Light Middleweight Title and Canelo will be defending his WBC and The Ring Light Middleweight titles. This boxing event is dubbed as "The One" which will determine who will be the best pound for pound fighter of the world.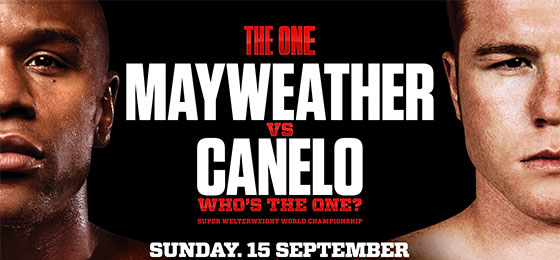 If you are looking for means to watch Mayweather vs. Alvarez fight live or replay online or offline, just check out the following sites and ways to witness this match.
You can definitely watch this fight live or replay via pay-per-view on Showtime by subscribing to them HERE or contacting your local cable provider for the subscription fees.

If you are in the Philippines, you can watch the full replay of the match via GMA 7 network on Sunday night which is about a couple of hours right after the fight.
You can also try visiting websites like Telepisodes (via http://www.telepisodes.eu/sports/mayweather-vs-canelo-alvarez-fight/) to see some hints and links on where to watch live streams but this does not really guaranteed a hassle-free watching and still I recommend that you get a PPV as recommended on option #1.
The following are the videos related to Mayweather vs. Canelo "The One" boxing event:
This is the live stream of their final press conference:
and this is the promotional video for the Mayweather-Canelo Showtime PPV:
You can also check the complete episodes of SHOtime's ALL ACCESS: MAYWEATHER VS CANELO series via: Kentips.com.