Pacquiao vs Ugas fight update. Pacquiao vs. Spence is out and will not happen. Not for now and possibly never! This happened several weeks before the boxing event. It was reported that Errol Spence, Jr. suffered from left eye injury and can not push through the actual match. Now, the veteran and pound for pound fighter Pacquiao will be facing Yordenis Ugas , a Cuban champ. This will be on the same date of the Pacquiao-Spence fight which is on August 22, 2021 Philippine Time (August 21, 2021 US EST time) in T-Mobile Arena in Las Vegas, Nevada USA.
COVID-19 can not stop Manny Pacquiao from boxing. Even political pressures can not distract him from being at his best in showing the world how he is a strong and world class boxer. I guess most of us knew who is Pacquiao and how capable he is. Let's check if Yordenis Ugas can keep up with the speed of the Pacman and what he got to counter the Filipino champ.
Yordenis Ugas is a 35 year old Cuban professional boxer with 26 wins and 4 losses with 12 knockout wins in his professional boxing record. He is currently the WBA Super Welterweight champion. He uses an orthodox fighting stance and this will be an interesting style to match up against the south paw Pacquiao.
The PPV network to watch Ugas v Pacquiao are as follows:
United States: Fox Sports
United Kingdom: Sky Sports Sports
Channels to watch Ugas v Pacquiao for free in the Philippines:
TV: GMA 7 and TV5 (see promotional teaser video of the match) at 11am on August 22, 2021
CNN Philippines
Radio: Live on Super Radyo DZBB and usually Bombo Radyo Philippines (Regional)
Other to follow…
via Online Streaming:
GMovies.ph by Globe Telecom powered by Upstream.ph for P400 PPV
More links at Telepisodes.org
International TV:
Undercard Matches:
Victor Ortiz (US) vs. Robert Guerrero (US) – Welterweight
Mark Magsayo (Philippines) vs. Julio Ceja (Mexico) – Featherweight
Carlos Castro (US) vs. Óscar Escandón (Colombia) – Featherweight
If you want a glimpse of what to expect from the "replacement fighter" (no offence intended), check out the following fights of Ugas.
If you want to watch Pacquiao vs. Ugas fight online, you can revisit our site on the said date for recommended links to watch the boxing event.
Watch the Pacquiao vs. Ugas virtual conference below:
Watch Pacquiao vs. Ugas promotional video on TV5 Philippines.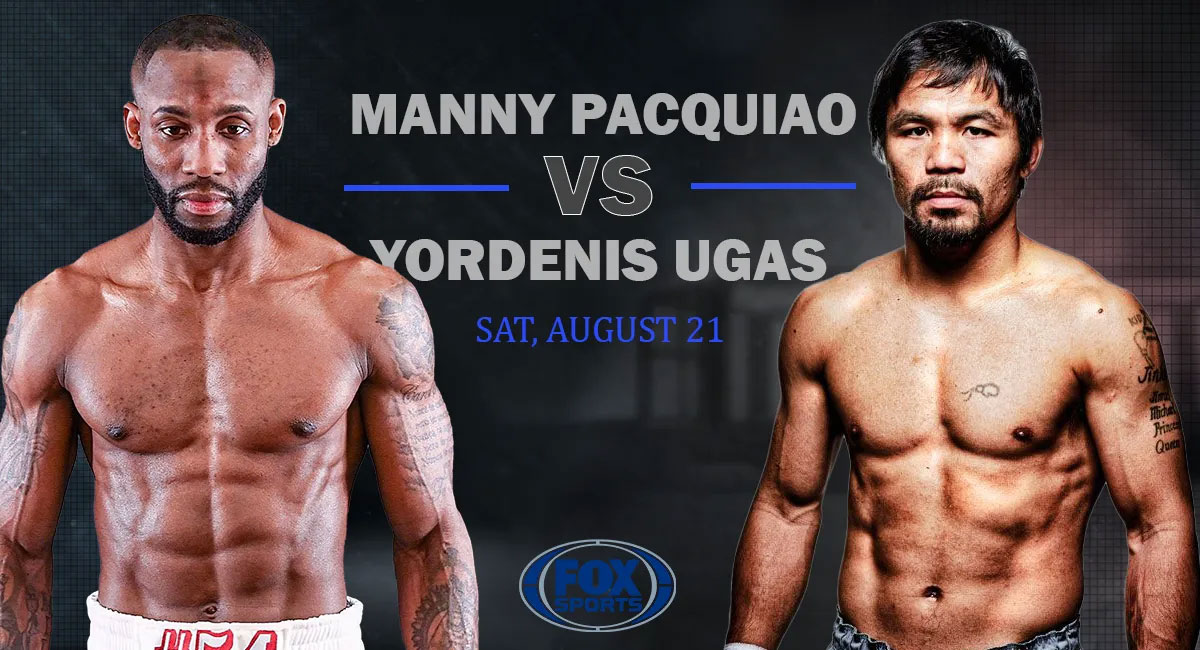 Pacquiao vs. Ugas poster – credit to owner.
Pacquiao vs Ugas Official Weigh-In Video:
Watch Pacquiao vs. Ugas boxing event non-televised fights below from PBC.