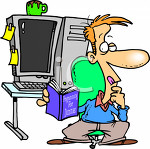 I have mentioned on my previous post: Programming NCIV Here I Go, that I took the qualifying exam of TESDA which I thought a Programming NCIV qualification. I was wrong. It was an ICT proficiency exam by NCC (National Computer Center of the Philippines) which is required by TESDA for TVET trainers of Region 6 which I assumed as the said competency certification. This mean that I need to take the exam again from TESDA to acquire a level 4 qualification.
Now, regarding the ICT proficiency exam which is a two part test: 1 hour written exam and 6 hours hands-on problem in programming, I was informed last Friday by TESDA office in Iloilo and Capiz that I passed the exam. Not only that I've scored a high score, making me to top the exam in our province and the whole Region 6 (out of those who take the exam in the Region during that schedule). I was so happy when I've heard the news and almost jump for joy. I was expecting for the results for months now and really prayed to God to let Him give me this qualification. I believe that I need this one not for fame or what but for self-fulfillment.
This is the fruit of my hard work during school days and I thank God for giving me a clear mind and strength during that time. Now, TESDA endorse me to become one of the assessor of the Programming NCIV qualifying exam and will assess TVET trainers in Capiz and Iloilo later this month.