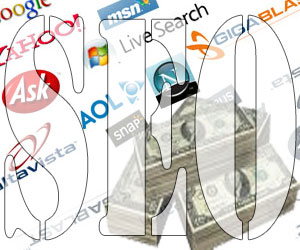 About several years ago, SEO or search engine optimization was introduced to me and started to research about it. I have learned the said "internet craft" after a couple of months of conducting experiments and information gathering about the topic. At first, SEO was a "game" for me but later realize that it is more than mere self-amusements and earning possibilities on this industry is high. SEO as part of the larger campaign called SEM or search engine marketing have been a great source of income for a lot of people ever since its emergence in the world. SEO is a method of making your websites search engine friendly so that it increases its visibility online thru search engines.
With the current situation of the economy of the world, additional earning opportunities can be very helpful. Here are the different ways, methods and cases where a SEO guy can earn with this craft:

Blogging is a vital part of search engine optimization and I actually started earning online through blog reviews and later give it up because search engines don't like paid posts.  Today, a lot of pro-bloggers still earn from these kind of stuff.
Google Adsense and other advertising scheme such as Adbrite and the like. Usually earnings from these ads on content  are very high specially if the niche (specific topic, product or theme focused) has a very high traffic possibilities. SEO plays a great role here because the higher your rank of your high traffic keyword target on search result pages of different search engines, the higher the income that you might gained from this.
SEO Services for websites. A lot of business today wants to compete with other companies and online competition is tough. The demand for SEO services worldwide is high so income possibilities is also high. Some high-paying jobs that you can land on, at home or full time jobs, are link builder, content writer/rewriter, corporate blogger and SEO consultant.
Here are just some great opportunities for making money online today that SEO can brings. Learn SEO now and you can start by reading some of the basic SEO tips I have prepared on this blog. Start now and reap what you can sow from SEO!