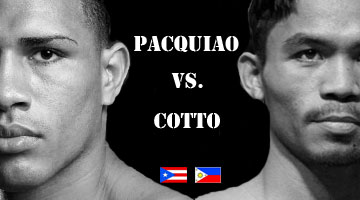 Its a week before the ultimate firepower fight: Pacquiao vs. Cotto and everyone here are so excited with this upcoming battle of the two great boxers. I've just recently watched the HBO 24/7 and seen how both fighters prepared for the "day" and Miguel Cotto is seems to be more serious about this as he trained 35 days before Manny Pacquiao ever step the gym for his 8 weeks training program. Aside from that, it seems that the Filipino boxer has so many distractions during the period that he started training. He shot several shows on TV and one movie. Got "hit" by typhoon when he starts his first week training in Baguio and many others that made him to pause the fight preparation.
I said on my previous post that I believe that Pacquiao's speed will still triumph against Cotto's power despite these distractions and negative thinking I have with how Pacman prepared for the fight.
I, and other people from the Philippines have their faith and hope for Manny and I hope that this will not be faded by an upset. However, even he lost in this fight, his legacy and honor can't be forgotten.
Go Manny, "you can do it!"