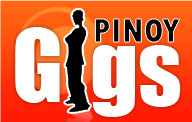 Are you looking for upcoming concerts or any Filipino events from around the globe from US, Canada, Europe and other countries? Or do you want to announce some music events, gigs and inform Pinoys about your scheduled events? Then go to PinoyGigs.com. It's free and easy. You are allowed to sign-up for a free account and post your gigs on their website and let the Filipino community from abroad see your schedules. You can also search for the latest news about sports, music and entertainment involving Filipino artists performing abroad at PinoyGigs' blog. They have the latest sports events and even provide the recent feeds (from video to text feeds) regarding the Firepower: Pacquiao vs. Cotto match this coming November 14. You can also leave your comments or reactions regarding gigs and shows.
All of these exclusive information about shows to be performed by your favorite band, artists and music icons are all available in one place for free and that is from PinoyGigs.com. Let you friends know about this by posting it with your Facebook wall, MySpace or Friendster accounts using the following codes and let all the Filipinos worldwide knows about this amazing place to see schedules and place where your favorite bands and shows perform live.
Here's the code:
Check the latest show being performed 
near you at <a href="http://www.pinoygigs.com">PinoyGigs.com</a>
Spread these words and let us support Filipino music wherever you are!