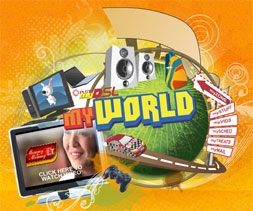 Updated (January 19, 2011): Recently, I changed my internet connection to PLDT DSL in our province from Smart Bro. I really find it fast compared to the wireless connection but I also experienced a certain problem from DSL which I don't know if it is just a coincident or what. I always lost my connection on PLDT DSL after midnight and it only resumes early before 7 in the morning. I already experienced it twice and I don't know if they have technical problems or it is just what it is. I don't want to call their 171 customer care yet to report this incident but I am planning to if I will experience the same thing more later.
Now in my search for solution or fix for this problem on the web (using my SmartBro – I believe that it only needs some tweak on the DNS of the connection settings), I found this post from NonThoughts blog enumerating a list of different valid DNS servers that is working with PLDT.
Here are the numbers listed by the said blog post and I use the first 4 numbers on the list and my connection on PLDT did came back.
Update: I added Google DNS and OpenDNS which are the numbers that I am using right now. It speed up the loading of the websites.

Google DNS (recommended)
8.8.8.8
8.8.4.4
OpenDNS (secure DNS with filtering options, go to OpenDNS.com and customize your setting):
208.67.222.222
208.67.220.220
PLDT DNS:
58.69.254.3
58.69.254.4
58.69.254.8
58.69.254.9
58.69.254.43
58.69.254.46
58.69.254.70
58.69.254.72
58.69.254.103
58.69.254.104
58.69.254.106
58.69.254.133
58.69.254.134
58,69.254.135
58.69.254.137
202.57.96.4
203.87.128.3
203.172.11.21
203.172.11.25
203.172.11.26
You might ask how you will specify this DNS on your connection. The following video shows how to change your DNS to use the listed numbers.
This text will be replaced
If you find any problem with your PLDT DSL connection, leave your comment here and share your thoughts, tips, tweaks or fix that have done to deal with this problem. PLDT DSL users will be very glad to read some good tips from you.