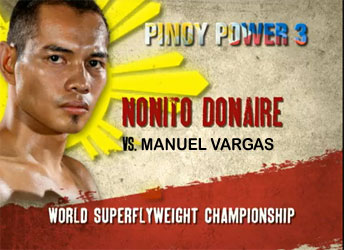 It is Sunday tomorrow and I'll be watching what every pinoy will be watching this weekend – the Pinoy Power 3 or internationally known as Latin Fury 13, brought by Top Rank Promotions. Of course, I will watch it on ABS-CBN at 10:30 A.M., I think there will be no other channel in the country that will cover it. I don't know if Solar Sports will be featuring the fight.
I like to watch Gerry Penalosa fighting against a big guy – Eric Morel. I saw them both on TV last night and Montiel got really a height and reach advantage. I hope that Gerry will survive this challenge. Aside from him, I am also eager to watch Ciso Morales on his debut fight for a title against the reigning bantamweight champion Fernando Montiel. I think he can make the pinoy proud.
If you want to watch Pinoy Power 3 / Latin Fury 13 online, I have several links that I found on the web that offers free online streaming. I will list all the links here on or before the fight begins so come back here on February 14, 10:30 A.M. GMT+8 / Philippine time.
By the way, here's the TV promo of this event: