You might wonder what's the phrase all about. Actually they are the current hottest search engine optimization contest this May 2009 where the two phrases are the target keywords to be optimized by several participants from different part of the world. I am one of those who participated the said event and here are my entries with a brief descript with the thumbnail of the site I used for the challenge: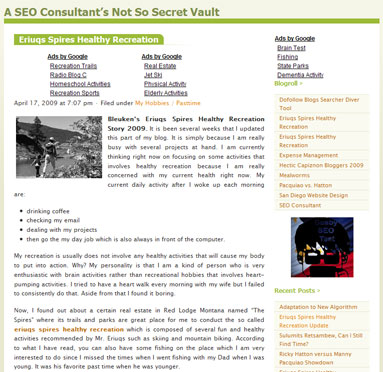 This is my first eriuqs spires healthy recreation entry. It is contained on my SEO stuff blog which I've used when I participated the Busby SEO Test challenge last year. Now I am expecting it to excel on the ranking because the main site of the blog post had gained a powerful link from the help of my fellow Filipino entrants plus my own effort to rank it. However, that's not what happen recently. It ranks on page one but it can't even step on rank #1. I hope I could make it rank well later.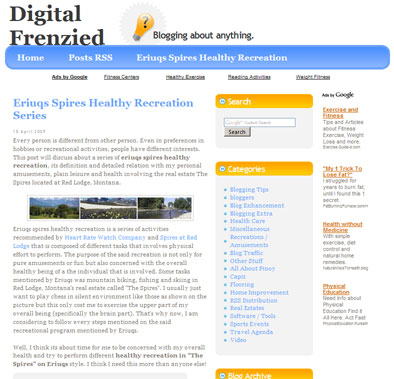 This eriuqs spires healthy recreation entry is hosted on Blogger.com which I used on the previous competition that I joined in. It has PR3 and I was shocked that it suddenly stepped on rank number one but as I expected it falls from its position since I know that it's ranking is not permanent because it still lacks necessary factors to stay it on top. Well, I am very hopeful about  these two blogs that one of them might bag any prize. If not then, at least I've tried. Its better that way. This competition will conclude on May 29.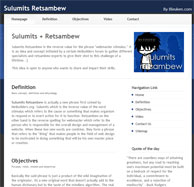 My next competition that I've joined was targetting the weird key phrase "sulumits retsambew." Its the reversed for the words webmaster stimulus. I am still undecided if I will proceed in the process of optimizing my site for the phrase. The final check-up for this competition will be on August 2009 and I don't know if I could still find time for it since that date will be full of activities in the school.
If I loose to this competition, it doesn't matter. At least through this activity I could check on other player's method so that I could use it on other things that will benefit other websites. This competition is a great avenue for me to release experiments and theories in SEO. Its learning that counts!