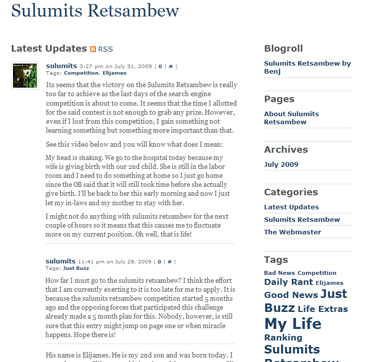 I am really fond of playing with the different kinds of search engine competitions. Actually this is the kind of event that all the SEO thing started on me. I compete and learned a lot of things in search engine optimization (SEO) from the different competition that I have undergone. This is also the venue for me to conduct experiments and trials that will lead to successful ranking of different websites.
This month, a competition called "sulumits retsambew" will be concluded. It is an international SEO competition that involves several "masters in search algorithms." It started last March 15 by Netbuilders.org and will end this coming August 15 at noon time (GMT). A lot of SEO enthusiasts, practitioners and specialists responded to the call of Netbuilders.org to this sulumits retsambew competition. I myself did respond showing interest to the competition. However, just lately, I am only doing about 1% to cope with the competition compared to the other competition which I participated, which of course found it not enough to bag a win. Its 1% because the 99% of my time are all intended to my other stuff that should be paid with full attention.
What I did now to me to adjust to this kind of setup (1% effort), I made a separate sulumits retsambew blog using WordPress and a twitter-like theme where I could only post minimum of about 140 characters which is suited to what my time can provide to the said activity. As of this time of post, my sulumits retsambew entry just only managed to rank on the second page of the search engine result page and sometimes jumping out of this position whenever I can't update the site.