Pacquiao vs. Cotto Update: Manny Pacquiao won in TKO at 12 round against Miguel Cotto of Puerto Rico, gaining his 7th boxing title which is the welterweight boxing division. You can read the archive sports news below for the detail of the boxing event.
Congratulation Manny, we are proud of you and you really the country's hope and pride! Mabuhay ka!
Coming soon, Pacquiao vs. Mayweather… watch out!
Here's the highlight of the fight:
News/Blog Archives:
Watch out for it as I cover the blow by blow account of the fight. You can watch the Firepower: Pacquiao v. Cotto match on the following links (this list will be updated as soon as I found links where you can watch it live and in delayed telecast so just REFRESH the page for the updates):
The official weigh-in is out: 144 lbs for the 6 time world champion Manny Pacquiao and 145lbs for the 3 time world champion Miguel Cotto.
The following are the log of events prior to the fight (arranged in reverse chronological order):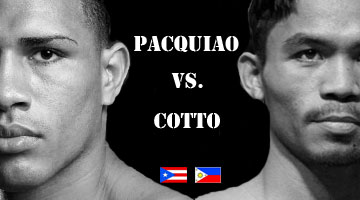 10.31 – Judges Duane Ford, Dave Moretti and Adelaide Byrd will be the panel of judges for the Pacquiao vs. Cotto super bout with Kenny Bayless as the third man / referee and not Joe Cortez.
10.24 – Today, HBO premieres the first episode of 24/7, a reality drama show featuring Cotto and Pacquiao during their practice and their lives behind boxing.
10. 11. 2009 On HBO's twitter, Shawn Porter – Pacman's sparmate said that "He's gonna shock the world again." Referring to the Filipino boxer to bring another exciting and fascinating fight.
10.09 – Undercard matches announced:
Julius Cesar Chavez vs. Troy Rowland
Daniel Santos vs. Yuri Foreman
Alfonso Gomez vs. Jesus Soto-Karass
10.07 – It is reported that Pacquiao is getting some beating from his sparring partner on his recent training in Baguio. Roach doesn't confirm if who on his sparring partner is giving some paws but it is possibly Porter because he is the much bigger and stronger sparring mate that he have. It seems that Pacman has lost his defense touch already. Will his time for training enough to fix his defense problem? Will Cotto exploits this weakness of the People's Champ?
10.05 – Julius Cesar Chavez, Jr. (40-0-1 30KOs) vs. Troy Rowland (25-2- 7 KOs) included on the match as undercard fight. Now, is anyone cares to watch this match aside from the main event? 🙂
10.03 – Pacquiao's training paused for a while due to typhoon Ondoy and Peping. Cotto keeps on practicing and will  KO his opponent according to his camp.
09.24 – Pacquiao stops his training to give way to his "political activities." News even reported that he said that he is willing to give up boxing for his political career. Pacman is rumored to run for congressman in Sarangani Province in the Philippines.
09.21 – Pacquiao flew to Baguio today to start his 8 weeks training program as preparation for his fight against Miguel Cotto.
09.17 – Pacquiao return from the promo tour and was welcomed by the insinuation of Mayweather Sr. saying in an interview that Pacman is taking steroids. The camp of Pacman is planning to act legally on this matter. Tsk, what an irresponsible remarks from someone who is known to be the trainer of a boxer who lost to Pacquiao!
Regarding his training, he will start it in Baguio by Sept. 21 and shift to Los Angeles in the Wild Card Gym by October 17.
09.09 – Until now, The People's champ is not formally training and he left today for United States for the 5-city publicity tour for their Nov. 14 fight. He said that 8 whole weeks is enough for him to train and Pacquiao plans to train in Baguio City when he come backs from the promotional tour.
09.04 – Pacquiao was promoted by the Philippine Army to Sgt. Major. The reason behind it, the honor that he is giving to the country by winning previous boxing challenges. The question now, what will be his rank on the army when he wins this match? If he wins!
09.01 – Pacman is not training for about 3 weeks now for the preparation of his fight against Cotto. Do you know why? He is filming a new movie in Manila. What's the title of the movie? Don't know yet! Freddie Roach however said that all of the preparation and the system for the Pacquiao's training are set already and he will not reveal any of the details of the training program that he'll give for Pacquiao.
08.30 – Pacquiao asked for Gary McMillan of UK as his sparring mate in response to the "lefty sparring mate key to success" plan of Cotto.  It's his camp move to adapt to the orthodox – southpaw style of Cotto. Great, this will be the start of an explosive fight to expect this Nov.!
08.12 – Pacquiao vs. Cotto match tickets will be available to all the fans worldwide by August 17.
08.11 – Roach told media, he's training Pacquiao not to be hit by the heavy punches of Cotto. What if he got hit? 🙂
08.10 – Arum announced today the signing of Pacquiao and Cotto contract on Tuesday, August 11. "Everything has been decided and agreed to. Cotto is defending the title and the weight limit will be 145 pounds." – Arum's assured.
08.03 – WBO (World Boxing Organization) announced that Miguel Cotto will be defending his welterweight crown during his fight against Pacquiao on 145 pounds maximum weight level. So the match Pacquiao vs. Cotto match is now a title bout.
07.28 – Dionisia Pacquiao, mother of Manny Pacquiao, said media that this Pacquiao vs. Cotto will be the last fight for Manny. Maybe this is because of his political plans this coming 2010. Let see what's up next.
07.22 – The wait is over for another action-packed match for Pacman! It is simply because both camp of Manny "Pacman" Pacquiao and Miguel Cotto agreed to fight on 145 maximum weight limit. This was Bob Arum said on an interview yesterday and he also added that they are just finalizing all the papers necessary for the match to materialize. The said match is scheduled on November 14, 2009 at the MGM Grand Las Vegas, Nevada and can be watched by boxing enthusiasts and patrons from around the world through HBO's pay-per-view.
Pacquiao (49-3-2, with 37 knockout wins) recently acquired the title of the pound for pound king after beating Ricky Hatton on the last May 2 bout while Cotto (34-1, with 27 knockout wins) successfully defended his title against Joshua Clottey last June 13. I think, this recent result of the fight of Cotto made him convinced that this Puerto Rican fighter is a worthy opponent for him. Both parties did not reveal anything regarding the percentage share that the boxers can get from the said upcoming event.
Tentative promotional tour schedule of the Pacquiao vs. Cotto match will be the following (this will be updated later when the event schedules are finalized:)
September 9 in Los Angeles
September 10 in New York
September 12 in San Juan, Puerto Rico
What can you say about this match guys? Do you think Cotto can handle the punches of Pacquiao and triumph from this challenge? Let me know about your thoughts about this upcoming fight by leaving your feedbacks, comments or analysis of the boxing event here.
Here is HBO's promotional video of the fight dubbed as "Firepower: Pacquiao vs. Cotto"