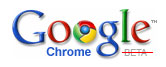 Lately, I've been using Google Chrome a lot compared to the usual browser that I use which is the Mozilla Firefox. Its because I always suffer slow down and sudden freezing of my PC whenever I open Firefox. My time is so valuable that I just can't wait for the Firefox to load. I don't know why it always freezed. I think I have enough memory and disk to handle all the processing for the said program. The speed of loading of Chrome made me to use it frequently.
However, I am still using Firefox specially when I am in my "campaign." I like the plug-ins that I have installed for my site that I always use for the SEO stuff which I think FF can only provide. Aside from that I like FF more than Chrome whenever I want to make a post specially if it involves embedding an image. Chrome just is not supporting resizing by dragging in WordPress.
Now, I check on my stats regarding my visitors preferences in viewing my sites and I thought a lot of them is using Chrome but I have discovered that most of my visitors use Internet Explorer then Mozilla Firefox while Chrome only falls on the 4th which is higher than Opera.
Here's the graph of the breakdown of the browsers used by my visitors (this is based on one of my site):