Update: Please SEE THIS PAGE for details on watching this fight.
Aside from the highly anticipated WBC Welterweight match, Mayweather vs. Ortiz on September 17, 2011, there will be a super welterweight championship match that will be held as part of the Star Power boxing event. That is the Mexican boxer showdown featuring Canelo Alvarez (37-0-1 27 KOs) and Alfonso Gomez (23-4-2 12 KOs). The Alvarez vs. Gomez fight is a 12-round super welterweight match that will be held at the Staples Center in Los Angeles, California and part of the Star Power Mayweather vs. Ortiz fight which are both featured on HBO PPV.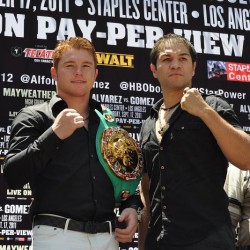 Now if you want to watch Alvarez vs Gomez fight, its either you get a PPV of the Mayweather vs Ortiz fight for sure it is part of it or if you can't go and buy ticket and watch the fight live, the only solution is to check it on websites that provide information on watching this boxing event via live streaming. Some known websites that I usually use to watch boxing online are Ustream, Justin, Sopcast and others. The problem that you will encounter with this sites is how to find the exact location to watch it and this website will try to help you to find it conveniently. Just go to my Mayweather vs. Ortiz post and I will update it with the details on the fight day.