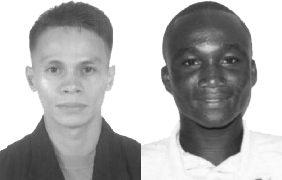 Tonight, I watched the fight between our very own boxer for the bout of 32 in the boxing Olympics. Tanamor Harry from Zamboanga represented the Philippines on the light flyweight division (48 KG). Sadly, he lost against the boxer from Ghana namely Plange Manyo. I thought he got the edge at first because he agressively attacks his opponent hitting the body but his opponents is showing counter punches making a score against him. In round one alone, Tanamor opponents gain 2 points against his 1 point. The next round, the Filipino was not able to recover witht his bad score and eventually lost the game. The bout is a 4 round point system boxing. The score was 6-3 in favor of Plange so Tanamor ends there while Plange continues to the next round of 16.
Despite this lost I still salute to our Filipino athlete in trying their best to represent our country and give honor to the Philippines. Challenge and lost like this for Filipinos is nothing for them. It is the participation, spirit of sportsmanship and unity of all the countries that matter most to this Olympic events. It is the same feeling that I'm experiencing right now for the Busby SEO Challenge, the feeling of not giving up despite great challenge and hindrance to this tasks. I will raise the torch of undying fire of determination.
Mabuhay ang mga atletang Pinoy! Mabuhay ang mga Filipino Busby SEO Challengers! Saludo ako sa inyo!