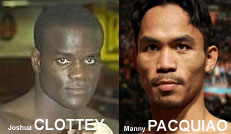 It is a week before the welterweight fight of the Filipino boxing superstar Manny "Pacman" Pacquiao against the Ghana native, Joshua Clottey. You might be planning to watch and still don't know where and how to watch it online or offline. Here are the list of some of the methods on how to watch Pacquiao vs. Clottey online or offline:
Live in Dallas – buy your tickets now, you might not able to do it during the fight.
Get a HBO PPV (pay per view)
If you are from the Philippines and have a PLDT MyDSL account starting at 990 plan then you can avail the benefit of watching it live in online streaming for free. They will provide it on their WATCHPAD portal but you need to confirm your interest of watching Pacquiao-Clottey via going to pldtwatchpad.com on or before March 11. I think this is their method of controlling and monitoring the possible traffic that they might have during the fight. The last time that they did the same was with Pacquiao-Cotto and their system crashed and even me wasn't able to watch it there.

Watch it via the following websites that offers embedded video online streaming:
You can also go to theaters for a fee or public plaza / gym near your (if you are in the Philippines), surely  they (politicians near you) will provide a free way to watch it in wide screen.
Use SOPCAST to watch it. You need to download it at http://www.sopcast.com/download/ and then you need to find a SOPCAST address later that offers the fight. Here's a list of Pacquiao vs. Clottey SOPTCAST addresses (sop://broker.sopcast.com:3912/24267 and sop://broker.sopcast.com:3912/29629):
You could wait for it on replay or delayed telecast on (not on ABS-CBN nor GMA 7) Solar TV Philippines.