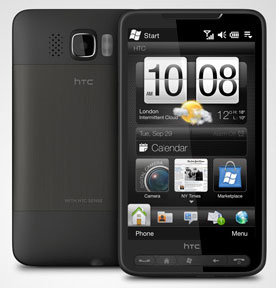 A friend of mine yesterday told me that he wants to buy this new phone called HTC HD2 instead of waiting for the Blackberry Storm 2. He told me that it is much better compared to iPhone or Blackberry. Sadly, according to him, it is not yet available in the Philippines.
According to the official press release of HTC.com, they will be releasing the said phone this month (October) or early next month in Europe then after that (which might be next year, max), it will be spread all through out the region (so wait mode for Philippine gadgeteers).
Here are some of the great features and specification of this new Windows phone – HTC HD2:

Operating System: Windows Mobile® 6.5 Professional w/ HTC Sense
Dimension (height x width x thickness): 4.74″ x 2.64″ x 0.43″
Weight: 157 grams
Display: 4.3″ touch screen, 480 X 800 WVGA
CPU: 1GHz Snapdragon processor
Memory: ROM=512Mb; RAM=448Mb
Connectivity: 3G, Wifi, GPRS, Edge, Bluetooth
Camera: Autofocus 5MP Colored Camera with Dual LED flashlight
Battery Capacity: 320-380 min. talk time, 390-490 hours standby time, 8-12 hours video/audio playback.
For those who want to see the "big" difference between iPhone and HTC HD2, here's a video comparing this two phones:
Now for the price, there's no any digits yet revealed in the Philippines. But my guess is that it might cost somewhat the same with iPhone or much higher.