I usually watch boxing events like Pacquiao vs. Bradley over my cable subscription but because my place was hit by Yolanda typhoon last year and destroyed my Cignal satellite dish, I was left with no option but to find other way to watch it without the hassle of watching its replay over local TV channels here in the Philippines that shows the fight with tons of commercial breaks.
My other option was to watch the fight online via live streaming but the problem is that the provider of the live stream of the match is not reliable and it keeps on lagging and I can't afford to miss every single seconds of Manny's fight. So, in his bout against Timothy Bradley this Sunday, April 13 (April 12 in the US), I already reserved a sit on a theater in our place (see the ticket below). It cost me about a 140 pesos (about 3 dollar plus).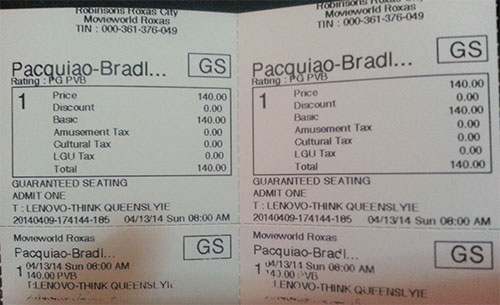 I prefer the said method because of its reliability and the big screen will surely give me a big time experience of the match. Actually its my first time to watch it on theater so I am hoping for a great experience.
Now if you happened to be here because you were looking for a list of links that I will recommend to watch the fight online, well you can try to go to Telepisodes but there's no assurance that the stream will be reliable. Well, you can try it. Just proceed to http://www.telepisodes.ch and search the event via the search box of the site. Good luck!