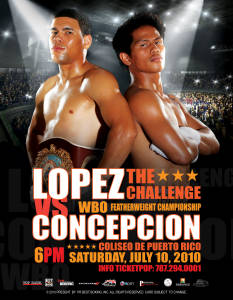 I will be at home tomorrow to witness another spectacular action packed fight and determination of a Filipino to give honor to his country. I am referring to the young 22 years old Bernabe Concepcion (28-3-1, 15 KO's) challenging the Puerto Rico boxing superstar and undefeated Juan Manuel Lopez. The fight that is dubbed as "The Challenge" will be televised on ABS-CBN, Sunday July 11 (July 10, 9pm ET) in the morning and will be held in Coliseo de Puerto Rico. In this Lopez vs. Concepcion match, the Filipino fighter is seen as the underdog for this event. This is because that his opponent is much older, faster and stronger than him based on the records and the fight performance of Juanma.
Lopez is still undefeated with a strong record of 28-0 with 25 KOs, a strong reason seen by boxing analysts that will surely make the challenger Concepcion to be beaten easily. However, I believe that Concepcion, being a Filipino, got a strong will and prepared well for this match. He will definitely give Lopez a "fight" and there's a big possibility that this pride of the Philippines will follow the foot steps of our national hero in boxing, Manny Pacquiao and grab the WBO featherweight title from Juanma Lopez.
If  in case you're looking for method to watch Lopez vs. Concepcion live or even replay online via live/replay streaming in SOPCAST or in different online video streaming, you can try to visit the following site that usually provide information on watching boxing events like this:
Telepisodes.com
ShowFreeVids.com
WatchBoxing.Info
Aside from this boxing event tomorrow, I will watch Netherlands vs. Spain 2010 FIFA World Cup finals replay. I can't watch it live because it will be telecast at 2:30 am in the Philippines. So I just can't do about it but to watch its replay instead.
So Sunday will be sports day for me and rest day for my SEO stuff and activities. 🙂