Update: There is fourth fight for Pacquiao vs. Marquez this 2012, you can check the details of this rematch HERE.
If you happened to be here looking to watch Pacquiao vs. Marquez fight, then you can check all the possible external links on the comment below. It will be updated later before the fight begins on November 12, Saturday night in eastern time.
After Manny Pacquiao's recently concluded mega boxing match with the American boxer "Sugar" Shane Mosley, world boxing fans were clamoring and questioning as to whom will the pound-for-pound king will be fighting next. Their queries will no longer be heard because the fight that many people were clamoring about lately is finally going to take place and there is no turning back anymore.
Since the supposed-to-be fight of Pacquiao with Floyd Mayweather Jr. seems to be not happening anymore, Manny Pacquiao is left with no other than Juan Manuel Marquez to fight for this year. This is going to be the trilogy of their previous fights. Their first fight was declared a draw and in the second one, Pacquiao won against Marquez via a split decision.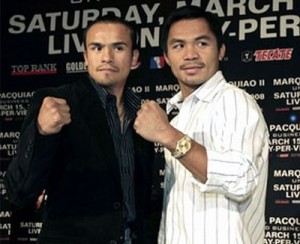 The Filipino pound-for-pound king Manny Pacquiao has an outstanding boxing record of 53-3-2-1 with 38 by way of knockouts while the Mexican Juan Manuel Marquez has a boxing record of 52-5-1 with also 38 KO's. The two famous fighters is said to have their third fight on November 12 this year to be held at the MGM Grand in Las Vegas, the same venue as to Pacquiao's fight with Mosley. It was said that even before Pacquiao's fight with Mosley last May 7, there was already a secret negotiation happening between Pacquiao's team and Marquez's.
Some people criticize this fight because they believe that two fights is already enough for the two boxers and the third or another rematch is not necessary anymore. But Marquez wanted to prove something. He wanted to prove everybody that he is the best match for Pacquiao and that if given the chance, he will be able to beat him up this time. He also claimed that he is so prepared for this upcoming match.
Manny Pacquiao on the other hand is so excited about this Pacquiao vs. Marquez 3 fight and announced that he will start the training for this match by September. The boxers will be fighting on 145 pounds catchweight and possibly its Pacquiao's welterweight belt will be on the line.
If you will based their previous fights, you will see that the Mexican boxer will surely bring some entertaining fight for the crowd. What I like about him is that he still continues to fight and keep on the offensive right after he was knock down. He's a real fighter that whenever he got hit, he will hit back which I think makes a very difficult fight Pacquiao back then. But that was long time ago and the Filipino champ have evolved in a much better fighter compared the yesteryears.
I personally think that it will be Manny Pacquiao who will take the victory on this Pacquiao vs. Marquez Part III fight but of course we can't take the idea that there's a possibility that Marquez can bring one of the greatest disappointment for him. We'll just see if what will be the outcome on November 12, 2011 and as usual I will try my best to share the most relevant updates and news about the boxing event plus shares on different link sources or streaming for the fight via SOPCAST or any other means possible to watch the fight.