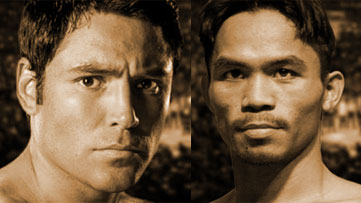 Latest update: Pacquiao successfully beaten De La Hoya!
Congratulation Manny "Pacman" Pacquiao!
This morning when I've heard the interview of Manny Pacquiao regarding his next fight, I was very shocked when he confirmed that he might fight "The Golden Boy" Oscar De La Hoya. He said that he can increase his weight up to 140 pounds so he can boxed with De La Hoya. I see De La Hoya's built and he is too big for Pacman and I don't know if Manny can reach the same built.
A lot of opinions are buzzing around our place saying that this fight might be the last fight for Pacquiao for he will be surely knocked down by "Golden Boy" and others are saying that this fight will be the graceful exit of De La Hoya on the boxing world. Pacquiao is really trying to reach his maximum limit and the decisions to this fight is still on negotiations.
Aside from that, Manny Pacquiao officially announced his political plans for the election 2010. Oh man, I don't know what to say. Honestly, I don't like the idea of Pacquiao to enter politics. I think this politics will surely "destroy" him and I hope Pacquiao will not allow himself to be eaten alive by dirty politicians that will surely surround and "solicit" from him.
Update (August 14, 2008). Today, Pacquiao decided not to continue with De La Hoya dream fight which was last planned to be held this December. It is because Pacquiao and De La Hoya did not agree with the 30-70 income distribution. I thought the dream fight will be materialized but I was wrong!
As of today (August 28). Pacquaio vs. Dela Hoya fight deal is done. It seems that Pacquiao agreed with the offer of the Golden promotion. Let just see what will happen with this fight. I am excited already!
11/22/2008. I found this behind the scenes video of the preparation of the said dream fight. You could view the said Pacquiao vs Dela Hoya Boxing Special Episode here. (it seems the link is not working already so I will look for sites with this video)
11/25/2008. In my search for the replacement video that I mentioned on the previous date, I found this virtual fight between Pacquiao and De la Hoya. So if you are really so excited to watch the Pacquiao – De la Hoya dream fight, you could view this one and see who might win the upcoming dream fight. Enjoy! 🙂