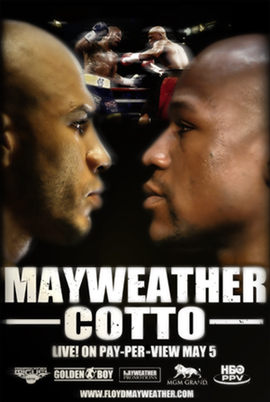 It is few days before the biggest fight of the year where one of the most annoyed boxer (in the Philippines, I guess. Actually there's no official records that indicate this "annoyed" thing.) will be fighting on the ring against the boxer from Puerto Rico, the angel as they call him, Miguel Cotto. I already saw how Floyd fight and his solid defenses, counter attacks and tactical point gathering during the fight is impressive. In the case of Cotto, he is a quite guy with deadly blows that overwhelms his opponents when he is about to swarm them with fast punches.
Both fighters got very impressive records. What is their difference? Well, Miguel Cotto already fought against one of the strongest welterweight boxer of the world, Manny Pacquiao, while Mayweather doesn't have a chance to fight him yet. Floyd Mayweather Jr. is an Olympic player and medalist while Cotto is not. Despite that Cotto fight in Summer Olympic of 2000, he was unsuccessful in getting a medal and was eliminated. However, he return on the ring and became one of the boxers that a lot of fighters dare not to fight.
Meanwhile, Floyd Mayweather Jr.'s record is still unblemished and defeat is not on his vocabulary. Known for talking trash against his opponents but really got the skills that really impressed a lot of boxing analysts and enthusiasts. His a bronze medalists in the Olympics in 1996.
Will I watch Mayweather vs. Cotto fight billed as Ring Kings on May 5? Well, my answer is a big YES, this is the reason why I already subscribe in a PPV (pay per view) in our place several days before the fight 'coz I really don't want to miss this one. Despite the fact that I don't like how Mayweather's talks and comments against Pacquiao, still I believe the match up is interesting. Actually it is more interesting than the upcoming Pacquiao vs. Bradley match. I think Mayweather will get a hard time and it will be not an easy match for him unlike his previous matches against Ortiz and Marquez.
However, my prediction is that if in case Cotto wasn't able to knock him out, Floyd will surely win via split or unanimous decision. Let see if what will really happen.
How about you, will you watch Mayweather vs. Cotto fight?
I usually share links on watching boxing matches like this but I recommend that you get a PPV for better viewing but in case you can't, you can try to see sites like Telepisodes.net or Kentips.com that provides link sources for live streams of boxing events like this one.