Update: Pacquiao vs Bradley 2 will be on April 12 of 2014, check the details now at Telepisodes today.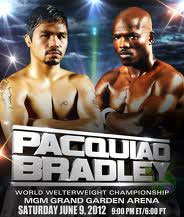 Manny Pacquiao is back on the ring again this June 9th (Sunday, June 10 in the Philippines) to fight against the undefeated American boxer, Timothy Bradley at the MGM Grand Garden, Arena in Las Vegas, Nevada, USA. As a fan of the "Pacman", I guess you already looking for means on how to watch the said Pacquiao vs. Bradley bout live online. I write this post to give you a comprehensive list of possible ways to see a once in a lifetime fight. I said "once" because I think there will be no rematch. As in no one wants this fight to happen again. Why? I think Pacquiao is too strong for Bradley and its a big mismatch.
Leave a comment if what you think about this.
Now for the list of ways to witness the fight, see them below in no particular order.
Get a Pay Per View (PPV) now. That's the most reliable means of watching the boxing event online for a small fee or if you're lucky you can get it for free. There are some small cable providers in the country that might (I'm not sure, but I've heard some) show the fight for free with a slight delay or no delay. In my case, I will subscribe for a PPV via Cignal TV, my digital TV provider. No, i'm not an official endorser of Cignal TV but I'm currently using it for other cable providers in our place don't bother in providing the said service.
Go to movie houses/theaters. There are a lot of  theaters that will show the fight for a small fee too. With large screen and digital sound, it will be a hell of a great experience specially if Pacquiao will be knocking Bradley out in the early rounds.
Try the sports bar or coffee shops. These establishments usually have some packages where you can watch the fight or sports events like this for a fee and it includes food and drinks. You're friends who wants to mix beer and cheering will surely love this setup.
Watch It on public gyms, plaza or covered court. Well, Pacquiao is a local boxing hero here in the country and  election fever is in the house already so it will surely be a great time for 'sponsors' out there that will give a free viewing of the fight via big screen rendered by either a flat screen or a projector. Politicians will surely take this chance.
Watch Pacquiao vs. Bradley online via live streaming. Usually some internet providers got promos which includes the free stream of fights like this but I can't see PLDT MyDSL showcasing this fight this time so no laggy and too slow watchpad this time. Your option right now is to search for SOPCAST channels, live streaming sites and other online sports websites that might provide links to this bout. You can check on websites like: Telepisodes.ch and Kentips.com to find possible SOPCAST channels and/ or links. Usually these sites post such information before or during the match.
These are just few ways that I can think of to watch Pacquiao vs. Bradley fight live online and/or offline. If you have anything in mind or wants to add something about your sources, then don't hesitate to make use of the comment box below. I will also try to share links if I can find one online later. Check my posts on June 9!