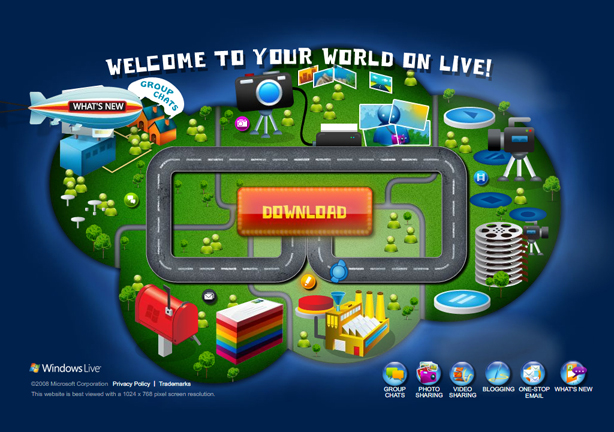 I've been a Hotmail user since 1998 and this was actually my first web-based email account when I first got online. Yesterday, I just received an email from Hotmail/Live about the new version of Windows Live. This new Live allows you to check any email accounts including your Hotmail accounts. Aside from Windows Live that allows you to check all of your email accounts in one program, the new package includes other web tools that you can use for updating your blogs, for photo and video sharing and other things. Here are other tools used included on the Live installation:
Live Messenger/Call – This allows you to chat online via text and voice. It also allows you to share your video and photo. Through you can also set-up a 20 people chat session.
Live Mail – This is the system that allows you to check all your email accounts without the browser. I usually use Mozilla Thunderbird to check my emails but maybe I will use this one instead from now on, specially for my Hotmail account.
Live Writer – A tool that works with most popular blogging services, including your Windows Live space. Use Writer to create and format

blog

(Short for weblog. An online journal or newsletter that is frequently updated and intended for general public consumption. Blogs generally represent the personality of the author or the website.)

posts with rich content, such as maps, tables, hyperlinks,

tags

(Keywords that can be assigned to a blog post to indicate which category or categories it belongs to. Writer allows tags to be added to blog posts from various social bookmarking websites. When the blog post is published, the tag is hyperlinked to the social bookmarking website, and automatically triggers a search for items with the same tag.)

, and categories.
Live Family Safety – lets you choose the web content your children see, choose who they talk to online, and get reports of their online activity.
I am still checking on the new features of the tools mentioned and I can't thoroughly describe each feature yet. I will just update this post if I will encounter any issues that is worth to mention but right now I am happy with Windows Live because at least I could easily check all my email from Gmail, Hotmail and Bleuken.com. Later, I will make a post on how to configure Windows Live to sync all your emails from different email providers to the current program.