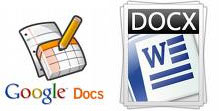 With the introduction of the newest document format of Microsoft Word on its new version starting from Word 2007 (& the coming soon 2010 version), problems occur for those who received this format specially those who still used the old version of the application. The default format of Word 2007 whenever you save a new file, is a .DOCX or .DOCM (Office Open XML) format. The problem starts when you want to open the file , for example the file was sent to you as an attachment on email, and you only have a Word 2000/XP or 2003 . It can't be opened by this old version.
There's one thing you can do, you can either upgrade your office application or download a .DOCX converter which I think you don't want to do yet.
Now, if you really want an immediate method of simply reading what the .DOCX document contains (for free), you can use Google Docs to open it and even save the whole document to the previous version (or even other format). Here's how:

First, sign-in to your Google Docs account. Any of your Google accounts will work for this. If you still don't have an account just sign-up. It will only take a minute to do that.
After that, click Upload from the top bar menu.
Browse and select the file that you want to view then click Upload button.
It will be opened immediately depending on the size of the file.
Now, if you want to save the file with a previous version file format, just click on the File Menu ->Download file as -> Word then download the file.
That's it, you have already open the file without using the latest version of Office/Word. This is also applicable to Excel and Powerpoint files. Try it and let me know if it does really works for you by leaving a comment below.