Pacquiao vs. Marquez is here again and it is their fourth time already to fight! A lot of people are getting tired of this match but still tons of boxing fanatics want this rematch. Maybe some of them want Marquez to shut up from his claims regarding the results of their previous fights and once and for all bring closure to the controversies that surround the issues. This maybe the biggest reason why Mr. Arum is so eager to make this fourth and maybe final fight between this two great rivals to happen.
Me, I will be watching this match because it is simply "PACQUIAO!" As long as he is the one fighting, I will definitely find time to witness every single fight he will have this year and in the future until he retires.
Details of the Fourth Match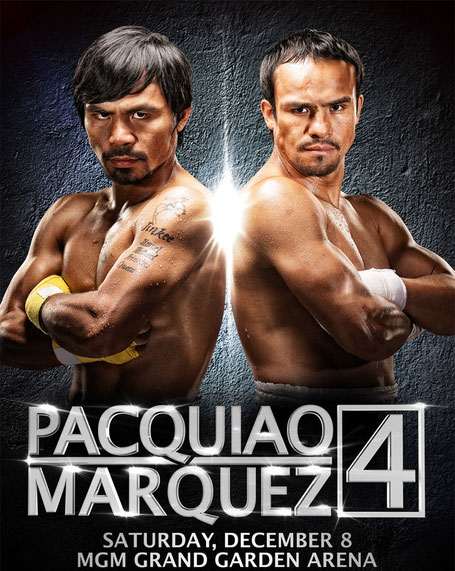 The Manny "Pacman" Pacquiao (Philippines) versus Juan Manuel Marquez (Mexico) IV boxing event will be happening in December 8th this year Saturday (in Las Vegas time, Sunday in the Philippines). The venue of the fight will be at the MGM Grand Garden Arena and organized by Top Rank Promotions. It will be a no title welterweight match. One of the expected explosive undercard match that is featured in the event is the fight between Yuriokis Gamboa and Michael Farenas.
Where to Watch Marquez/Pacquiao Fight Live?
Here, I will try to share how I usually watch boxing event like this and other people do to have a "free" means to witness Pacquiao vs Marquez 4 fight .
I already paid a PPV (pay per view) from my digital cable  provider, CIGNAL and it cost me only P150 (about $3.75). Its cheap right? Its because I availed their early subscription discount. But the regular subscription fee for the said special live TV coverage is about P550 (about $13.75). This is my number one choice in watching the fight because it is much reliable and crispier quality.   It is 99% guaranteed reliable and the remaining 1% issue is when it rains hard which causes the lost of the signal or black out. 🙂
Second choice, will be watching the fight live in a sports bar with a coffee or beer while shouting with other people cheering for the Pacman.
Selected Theaters. It is in big screen, live and affordable.
For internet users, well there's a 50-50 chance that you can find a reliable source to watch the fight via live streams from SOPCAST, UStream, Telepisodes.net, etc.
If you're lucky, you can find replay of the fight from Youtube.
Finally, wait for the delayed telecast of the fight from your local TV channel or the replay from the official network responsible for televising the match. It is 100% reliable but of course with a lot of commercials / advertisements in every single round.
Fight Prediction
I think Pacquiao will still have this. Despite the several controversial results, still he will beat Marquez. I know it sounds bias but it is just what I see. I think, Pacquiao needs this win specially with his "official lost" against Bradley. I respect Marquez perseverance and determination in trying to bring home the honor back to his country but his experience and skills are not enough to bring down the Pacman. It will be knock out in the 8th or 9th round.
HBO 24/7 Episodes
Episode 1

Check the second episode at Telepisodes.net now!
Other Videos Related to the Fight
Prediction and analysis of the fight from various boxing experts and sports analysts.

Right before this big fight, you might want to have a review of the previous Pacquiao/Marquez 3 rematch which you can watch online below. Thank you for HBO Sports for this free live streaming of the Pacquiao vs. Marquez fight. Fans will surely watch this over and over again online.
You can check other Pacquiao/Marquez 4 videos from this channel on Youtube: http://www.youtube.com/user/HBOsports.
If you have anything to add about this article such as your means in watching the fight live or replay or just a comment about the event, just share them by leaving your comments below.