Manny "Pacman" Pacquiao (52-3-2, 38 KOs) will be on the ring again this coming May 7, 2011 to defend his honor, boxing title and his domination as pound for pound king of the world against the American boxer, "Sugar" Shane Mosley (46-6-1, 39 KOs).
Top Rank Promotions CEO Bob Arum made the arrangements to make this fight to happen. Arum believes that Pacquiao vs. Mosley is much better compared to other options that line up prior to the decision day of the fight such as options like Pacquiao-Marquez trilogy and Pacquiao-Chavez match up.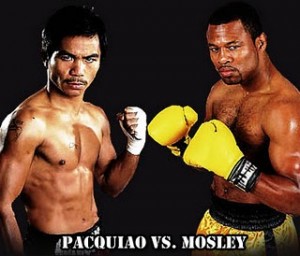 Honestly, I was expecting that Pacquiao will be fighting against the undefeated welterweight boxer, Floyd Mayweather Jr. but the latter faces different legal issues that really hampered him to think about anything about boxing and make the dream match materialized. Maybe later this year or next it will happen but Mayweather really need to fix his problems first so that he could focus on fighting the people's champ.
Now, with the announcement of Mosley-Pacquiao match, mixed opinions spread and a lot of them thinks that Mosley is too old for Manny to keep up with his speed and power. However, he said that he won't go easy with the champ and even his opponent is saying that this fight will be quite difficult compared to other matches he successfully won.
CBS/Showtime will be the one to handle in televising the fight instead of HBO. They will also produce a 24/7 – like sports documentary for the match to promote it several weeks before the fight night. The boxing event will be happening at the MGM Grand Garden Arena in Las Vegas, Nevada, USA. The 24/7-like series will be the called as "FIGHT CAMP 360°: Pacquiao vs. Mosley" which premiere date will be on April 2, 2011. You might want to check the complete schedule at WATCHPACQUIAO.COM.
Later, return here at Bleuken.com for the links or live video streaming that I will try to share to you on where you could possibly watch Pacquiao vs. Mosley live online or even its fight replay. I will also update this article for other highlights of the match, news and other stuff about Pacquiao vs. Mosley fight on May 7.
Featured undercard fights for this boxing event are:
Humberto Soto (56-7-2) vs. Urbano Antillon (28-2-0) rematch for the WBC Lightweight division.
Wilfredo Vazquez Jr. (19-0-0) vs. Jorge Arce (56-6-2) for the WBO Super Bantamweight Title.
Kelly Pavlik (36-2-0) vs. Alfonso Lopez III (21-0-0) in a 10-round Super Middleweight showdown
By the way, you can leave your comments below for any reactions, feedback or fight prediction about this upcoming Manny Pacquiao vs. Shane Mosley match.
Pacquiao vs. Mosley Fight Updates
4/13/2011: Pacquiao is in Los Angeles, California right now for the final leg of the extensive training for the match while Mosley is still in Big Bear California. Azkals – a football team from the Philippines visited Manny and express their support and interest to watch Pacquiao vs. Mosley live.
4/21/2011: You can now watch Fight Camp 360: Pacquiao vs. Mosley Episode 1 full replay here at Bleuken.com, just check out the link on this website.
5/5/2011: Top Rank boxing held a Las Vegas press conference today that marks the beginning of the "Unstoppable" event. A 7 part series dubbed as "Count Down to Pacquiao vs. Mosley" was also produced by them to promote the fight which can be watched via Top Rank's official Youtube channel at http://www.youtube.com/trboxing. Meanwhile, the official Pacquiao vs. Mosley weigh-in will be held on May 6, 2011 at 6pm ET/PT and can be watched live via SHO Extreme. I hope that the Top Rank website got a live stream version of it so that I could also watch it live but I believe that CBS/SHO will upload the video feed of the weigh-in in Youtube which the same thing that they did on Fight Camp 360.
5/6/2011: The official weigh-in will be telecast live via CBS/SHO Sports Extreme at 6pm Eastern Time (6am May 7 in the Philippines) and can be watched live via Top Rank Live Streaming. I'll post the result below later.
5/7/2011: Manny Pacquiao dominates Shane Mosley but wasn't able to knock out the latter. However, his speed really 'kills' and successfully prove that no one can't beat him yet on WBO Welterweight position. You're the man Manny, congrats!