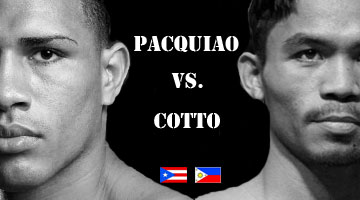 Manny "Pacman" Pacquiao is one of the boxer in the Philippines that I think that has gain some certain "wisdom" when it comes to boxing. He is a kind of fighter that improves and changes or improve his fighting style all through out his career. He showed several impressive performance on his previous fights. From beating Barrera, Larios, Marquez, Dela Hoya and Hatton. Making him one of the greatest boxers of all time.
I believe that he can beat Miguel Cotto and he can still retain his title as the pound for pound king in the whole world. He got the speed and strength that you can't see a lot from other boxers in the world. This is one reason why I am really thinking that his possible retirement after the fight will be such a waste. He is planning to pursue his political career in the Philippines and this is one of the hindrances to his boxing career.
The super fight, Pacquiao vs Cotto is expected to happen this coming Nov. 14 (Nov. 15 in the Philippines) and tickets on the ringside of Las Vegas, Nevada are sold out.