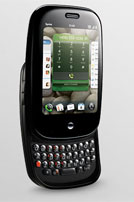 Last Saturday, Palm Inc. released Palm Pre (dubbed as the "iPhone Killer") in the market and even the line of interested buyers were not that long as iPhone the last two years the Apple gadget was released, positive remarks came out from different people regarding this new smart phone from Palm. The question now is that if this new phone is really an iPhone killer or just another new phone that will challenge iPhone in the market. Well let us see the basic features and specification of the new Palm Pre phone:

Dimension: 3.96 x 2.34 x 0.67
Weight: 135g
Screen: 3.1″ Touch Screen
Design: Slide with QWERTY keyboard
Camera: 3.0 MP with flash
Memory: 8GB Internal Memory
Connectivity: Wifi, 3G, Stereo Bluetooth, microUSB
Operating System: Palm WebOS
Other Features
Multi-Tasking. Allows you to open other applications while in a conference call.
Removable battery for longer phone use
Activity Cards. Allows you to move easily from one application to another like from maps, email, websites, etc.
Price: $199.99 after the rebates
Network: Sprint Nextel
Now, what do you think, will Palm Pre can really "kill" Apple's iPhone?