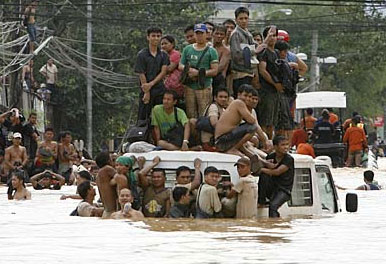 I know it's quite late for me to talk about the typhoon Ondoy because it already passed and typhoon Pepeng already made the NDCC (National Disaster Coordinating Council) of the country declared a state of calamity for the whole Philippines. But, I better talked about it rather than discussing things about oes tsetnoc (an international search engine optimization competition) – which doesn't help anything at all – and show to the world some of the great traits of the Filipino in coping with adversities. You will see how the real Filipino reacted, responded and acted on this kind of event in their lives.
You will see them still smiling despite their houses and other properties were destroyed by flood – This only shows how hopeful the people are for a better life after the unfortunate event. You will see them help their neighbors despite their differences – They all forgot about it and lend a hand to those who needs. Sharing what they only got to others. You will hear them praise God and shows a stronger faith after all the trouble they've got. Victims or not are praying for everyone's safety. You will see them how they value their families rather than their properties. You will also see valuing more other people's lives rather than themselves, even sacrificing it for the sake of others.
Typhoon Ondoy and other calamities will not break the hope and faith of the Filipino. These are just making us Filipinos much stronger!