On my previous post, I have announced the released of the new Smart Uzzap and tried it personally on my cellphone, on my wife's Nokia 6630 and my younger sister's Motorola L6i. First, I have downloaded it via PC and install the PC edition of Uzzap. I found it "not so interesting" because the PC edition does not contain special features that can surpass the existing Yahoo! messenger or ICQ so I did not use it. Then, I installed it on my N73 cellphone and to my wife.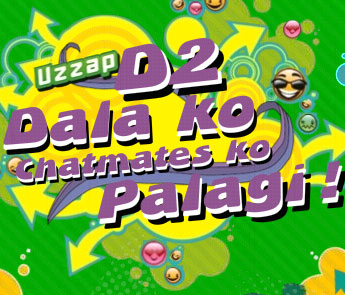 I installed Uzzap via downloading it on the cellphone's browser through the URL: http://uzzap.com/download. It requires 3G enabled before you can download and install it for free. In Symbian-based cellphone's like our Nokia cell, .SIS installer is used while to non-symbian (Erikkson & Motorola) the installer is in .JAD format (Java-base). It took me about 2 to 3 minutes to completely download the installation file.
Here's the things I like and don't like about Uzzap's feature after I have tried it:
It's free until

August 31 only

now. The free stuff includes sending of messages and chatting or buddy group chat. You can only send message to people who also uses or registered in Uzzap and added as buddy. If in case they did not log-in, offline messages are send via SMS. This feature can be found at Extended Messaging part of the application.
I joined the chat room and found things that I don't like. One, is the absence of "flood-control" in the chat rooms. The flood by abusing chatters are really annoying for chatters and it seems that it can't be avoided or controlled by anyone. No moderators. No rules. No banning and reprimand or whatsoever that can scare abusers. I don't know if this still happens when it becomes paid service already.
Slow response time as Java application but working fine in .SIS form.
Simple interface.
With regards to Instant Messaging features I was not able to use it because it fails to connect to Yahoo! and MSN.
Before I state my conclusion and final verdict on this Uzzap, I would like to inform you that I'm not a chat fanatic. I prefer optimizing my eriuqs spires healthy recreation entry on my blog rather than spending my time chit chatting. So, if the time comes that it becomes paid after the free trial, personally I will not use it. The features for me is not enough to be worth of paying the service later, I'm using it because it's free but I am not saying that there's no possibility that I might reconsider using it.
How about you what can you say about its feature and your experience on Uzzap's service. Share it with us!