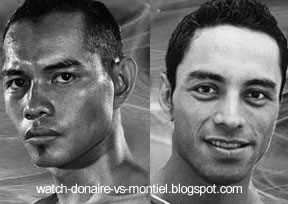 Aside from the Pacquiao vs. Mosley match that I am excitedly expecting to happen this coming May 2011 is the bantamweight championship match between Nonito "The Filipino Flash" Donaire (25-1-2, 17 KOs) and the Mexican boxing champ, Fernando Montiel (43-2-2, 33 KOs) which is scheduled for an action-packed 12-round bantamweight fight on February 19, 2011 in the Mandalay Bay Resort in Las Vegas, Nevada, USA.
Both of the fighters have shown a very impressive performance on their previous fights. Montiel have been undefeated since 2006 and ferociously beat his opponents with a knocked out shutdown in early round. Jovanny Soto was his last victim where he dismantled him on the 2nd round of their fight. Meanwhile, Donaire have demonstrated his strength and known for being a counter-punch specialist and his last fight showed how he brutally finished in fourth-round via knockout the former bantamweight champion Wladimir Sidorenko last December. This is when he challenged Montiel for the bantamweight title.
Now if you want to watch Donaire vs. Montiel, HBO Boxing After Dark will feature the said fight live beginning on February 19, 2011 at 9:45pm eastern time (tape delayed on P.T.) direct from Las Vegas. If you are in the Philippines, ABS-CBN is the official channel that will televise the said fight.
You can also try to return here on this Donaire vs. Montiel post/article for I will share different websites, methods and guides to watch the boxing match online. As the same I am doing when I am discussing about Manny Pacquiao's matches.