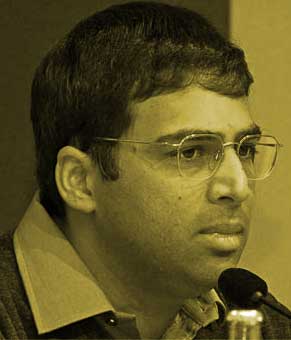 Viswanathan Anand of India wins the World Chess Championship 2008 against Vladimir Kramnik of Russia and retain his title as world champion. The said championship game takes place in the Art and Exhibition Hall of the Federal Republic of Germany in Bonn. The chess match supposedly should be played for twelve games from October 14 to November 2, 2008 but since Anand managed to get a draw on the 11th round and a score of 6.5 against his opponent Vladimir Kramnik's points which is 4.5, the game ended earlier than expected. That's why the 12th round was not played and the chess match did not reach the 2nd of November's final game. Players shared the prize fund of 1.5 million Euro or approximately 2.35 million US Dollars.
Ever since that I become active in playing chess, I really like the games of Anand (aside from the games of the retired chess player Kasparov). Actually some of my games played were derived from his previous games played even he was not yet a champion. Right now, I am not active in playing chess because I am too busy with my "cloud" activities and my mind just can't be divided with this mind boggling game but of course from time to time I am allowing myself to play the game. Specially when I felt that my brain started to become rusty. 🙂
This is definitely a good news for Asian chess enthusiasts! A new inspiration for them to look for them to follow their dreams to be someone who can played with the chess champion. For more information about this chess championship event, visit the official World Championship Website or if you want to download the games played in PGN format and view some pictures of the events (which is the same as shown on this post), visit ChessBase.Com. They have a lot of collection of pictures from the said event.
Congratulations to Viswanathan Anand!