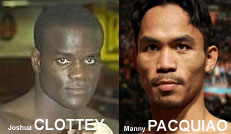 Update:
To watch the Pacquiao vs. Clottey online or offline, please GO HERE for instructions.
Top Rank Promotions and Manny Pacquiao's camp agreed to fight Joshua Clottey on March 13, 2010. This is the result of the failed negotiations of the megafight Pacquiao vs Mayweather. After both camps didn't agree with the terms of the fight (specifically the method of drug testing), Bob Arum announced that the pound for pound king will be fighting against the Ghana-native boxer. When I read about this news, I really find it to be a very easy fight for the Filipino fighter. This conclusion is just based on Clottey's fight against Miguel Cotto (who was beaten by Pacman on their last match).
However, this thinking changed when I heard Freddie Roach said that this match will be one of the best boxing event and Pacquiao will surely have a hard time with him compared to Mayweather. It will not be a boring fight – not directly said by him but this is what he is trying to say.
The said fight will be held at the Cowboys Stadium at Dallas but Arum doesn't confirm yet if it will be featured in HBO or not.
For your comments and reactions, you can leave it on the form below. You can also check on the updates of this post whenever there is an important updates will happen about the fight and I will try later to share the possible different options on where to watch the said anticipated Pacquiao vs Clottey fight online. Be here when the day comes for the said information. You can also go to Clottey vs Pacquiao blog which contains updates and news regarding the fight.
Update (01/21/2010): Pacquiao vs Clottey "The Event" can be watched on HBO PPV after HBO agreed to cover the said mega event of the year in Cowboys Stadium in Arlington, Texas. Mayweather's camp also tried to convince the latter to cover his upcoming fight but HBO prefers Pacman's fight.
Ticket Cost: $50 – $700 (from corner end zone to front near ring on the floor of the Cowboys Stadium).
Update (02/28/2010): As of today, more than 35 thousand tickets were sold.
Pacquiao vs. Clottey undercard named. WBC super featherweight champion Humberto Soto will fight former WBC lightweight champion David Diaz for WBC lightweight title. Other fights are Jose Castillo vs. Alfonso Gomez and John Duddy vs. Michael Medina. The Salvador Sanchez III vs. Roberto Marroquin bout is also part of the undercard will not be televised.
Third-man for the fight was selected and that will be Laurence Cole.
HBO will premiere "Road to Dallas" on March 6, 2010 at 11PM ET/PT, you can watch it at WatchBoxing.Info
Update (03/09/10): Manny Pacquiao is now in Texas for the last leg of his practice/preparation for the upcoming Pacquiao vs. Clottey match on Saturday (Sunday here). He used Air Pacquiao – a chartered 170-seats airplane, to go to Texas with his wife and other Filipino supporters who will be watching his fight in the stadium.