Nokia 5800 XpressMusic, the new music touch phone was revealed by Nokia yesterday during the virtual event called Nokia Remix on October 2 at 17:30 GMT in London, UK & Singapore.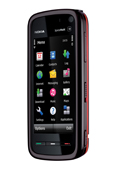 (This is the phone that I have mentioned on my previous post entitled "Nokia Tube".) This new touch phone is said to challenge the touch phone of Apple and other mobile music devices in the market today. It is unveiled to be the music phone for the masses that is initially released in Europe for about 279 Euros ($395 or PhP13,570) excluding subsidies and taxes. The said phone will be available worldwide before the year ends and they will release a "Come with Music" version of this phone which is bundled with music, by early next year. Price detail of this new Nokia 5800 XPressMusic "Come with Music" version will be announced later by Nokia.
According to Nokia's Vice President Jo Harlow,
With the Nokia 5800 XpressMusic, we set out to connect people through the one thing we all feel a universal connection to – music, the way in which people enjoy music is different around the world. With that in mind, the Nokia 5800 XpressMusic gives people the freedom to experience music they love in the way they prefer.
…
As Nokia's first mass-market device with a touch screen, the Nokia 5800 XpressMusic turns a 'user interface' into a 'human interface' by truly putting people first. For example, we've introduced the Nokia Contacts Bar, which is like a digital RSS feed on your life. By adding the benefits of touch screen technology to S60, the world's leading smartphone interface, Nokia is taking the familiar and giving it a human touch. We have used touch technology where it really adds value such as the Contacts Bar, Media Bar and clever shortcuts from the homescreen to menu items such as calendar, profiles and clock.
Here are the technical specification of this new Nokia 5800 XpressMusic music touch phone:
Size
Form: Classic with full touch user interface
Dimensions: 111 x 51.7 x 15.5 mm
Weight: 109 g
Volume: 83 cc
Touch user interface optimised for one-hand use with tactile feedback
Main display
Size: 3.2″
Resolution: 640 x 360 pixels (nHD)
Up to 16 million colours
aspect ratio 16:9
automatic orientation sensor (Accelerometer) for display rotation
3D image engine
Keys and input method

Stylus, plectrum and finger touch support for text input and user interface control (alphanumeric keypad, full and mini qwerty keyboard, handwriting recognition, full screen handwriting for Chinese language)
Dedicated Media Bar touch key for access to music, gallery, share on-line, Video Centre and web browser
Voice commands
Physical keys for application launch key (menu key), send & end, power, camera, lock, volume up & down
Memory
MicroSD memory card slot, hot swappable, max. 16 GB
81 MB internal memory
8GB microSD memory card in-box, expandable up to 16GB
For more detailed specification of this device, see Nokia 5800 XpressMusic specification page here.
Woah! I just can't wait until I get my hand on this new touch phone and try its features but it might be available in our location by latet December or worst early next year. I don't think that I can afford its price yet but I am really interested to have it.