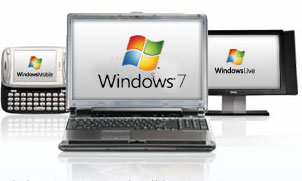 I've been using Windows XP for several years already and find it more reliable compared to other previous version of Windows. The problem with this version of Windows is some security issues that this OS are involved in. Actually a lot of viruses that I found are intended to attack all Windows XP's vulnerability. And so, I tried installing Windows Vista but when I found some slight inconvenience in using it with some of my favorite software. That's when I stop from exploring it and go back to Windows XP since a lot of my activities on PC involved those software. However, as the time goes by, it seems that is necessary for me to use its security features. That's why by the next school year, I will recommend it to be used on all of our computers in school. I hope that we could afford the upgrade since to use Vista you need to make sure that your hardware should be at least to its minimum requirements (which is at least 1 GB of RAM and PIV processor).
Vista is considered to be the "very secured" operating system ever made by Microsoft and its stunning appearance makes it more attractive to users. Now despite some users were not able to use Vista yet, Windows 7 – the latest version of Windows which is currently underdevelopment, is about on its way of release by next year. To give us an overview about this new operating system from Microsoft, here's the review of Computer World about the pre-beta release of Windows 7:

Overall, Windows 7 is a more functional, more efficiently designed operating system than Windows Vista, with far more attention paid to the user experience. From revamped a User Account Control (UAC) feature to better home networking, improved search and nice interface tweaks, the entire operating system has gotten an overall polishing. Even Windows Backup, one of the worst applications ever shipped with an operating system, has been turned into something useful.Read the rest of the review of Computer World here.
Now, what I am wishing on this new version of Windows is when it comes out, I hope that it can still run on my current hardware so that I will not buy a new CPU for it to work with me. How about you, are you excited with this new operating system from Microsoft?