Nielsen company is an independent organization that delivers comprehensive, independent measurement and analysis of online audiences, advertising, video, consumer-generated media, word of mouth, commerce and consumer behavior. They have just released the top 10 US web brands (home and work audiences) for the month of June 2009 and from their data, Google still tops their charts. See the table below containing the May and June comparison of unique visitors in millions of the top 10 web brands  based on the May and June 2009 data by Nielsen: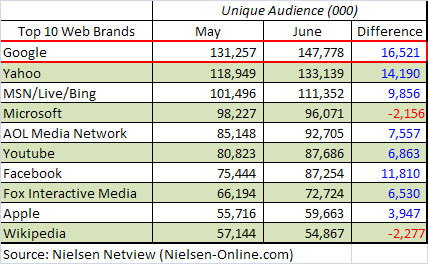 As shown on the table, Google still got the numbers when it comes to unique visitors but see how Facebook got a vast amount of increase in its traffic. By the way the table is based on the follow Nielsen PRs:
http://www.nielsen-online.com/pr/pr_090713.pdf and http://www.nielsen-online.com/pr/pr_090616.pdf.