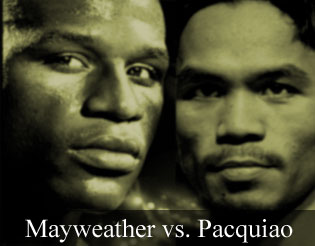 Today, Manny "Pacman" Pacquiao, the crowned pound for pound king, said to the press that the next opponent that he wants to fight on the ring will be the undefeated Floyd "Pretty Boy" Mayweather Jr. not the first rumored opponents Shane Mosley nor Miguel Cotto. He also believe that the undefeated, fast and furious defender "Pretty Boy" will win against Marquez on the Mayweather vs Marquez match this coming July 18 of the year. If in case that this will be pursued and agreed upon by the two camps, the tentative schedule for the said Pacquiao vs Mayweather match will be on October of this year.
I think Mayweather needs to win first his come back match before he can say something about this issue. He should prove to the boxing fans world wide that he is still the same "Pretty Boy" boxer that they've seen on his peak years. Well if this will happen in the future, I am sure PPV and tickets earnings will surely be one of the top grosser of all boxing fights in the world.
Later, I will update this blog for more news about this upcoming match.