I bought online a cheap android tablet from AwesomeGadgets.multiply.com last Monday and avail of their twin promo for Ainol Novo 7 tablet and get Aurora I & II for the price of one amounting to almost P12k (almost Php6k/each) only. I just received the items today, Wednesday, less than 3 days after I placed the order.
I am really impressed with the price and technical specs of the gadgets that's why I decided to buy them. Imagine for the price of P6K I could have a gadget that is much powerful than my first 7.0″ Samsung Galaxy tab. My first tab got 1 core and 1Ghz CPU while this cheap Aurora II got Dual-Core CPU.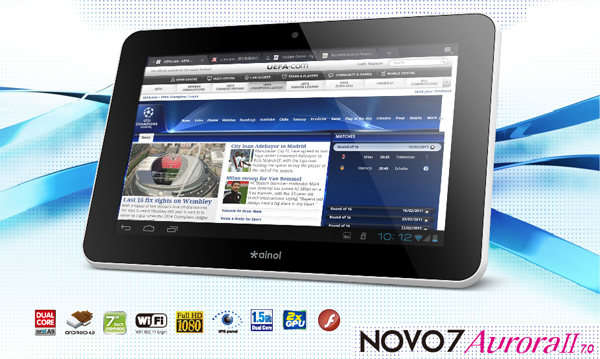 Youtube and Facebook Problems on Ainol Novo Aurora II
The problem with the new gadget is that I can't install the Facebook app via Google's play store and the newest Youtube version is not running in Aurora 2. However, this is just a temporary problem and I immediately found a solution from an Android forum specifically at http://www.slatedroid.com/topic/35728-youtube-not-working/page__p__398948#entry398948 where I discover a link to download for the *APK version of YOUTUBE that is compatible with the Ainol Novo Aurora II's android build. I also look for the APK of "Facebook for Android 1.9.7" and install it to my new tab. Its runs smoothly with Aurora I and II and enjoying my FB updates and Youtube viewing. (*APK = Android application package)
By the way, the following shows the complete technical description of the two tablets.
Model: Ainol Novo7 Aurora II
CPU: Dual-Core AmLogic 8276-MX, 1.6Ghz; Quad-Core GPU: Mali 400
OS: Android 4.0.3
RAM: 1GB, DDR3
Nand Flash: 16gb internal memory storage
Shell Material: Plastic

Screen size
Type Capacitive Screen
Resolution: 1024 x 600
Visible Angle 180 degrees
GPS: No
Extend Card Support TF card up to 32gb
Camera: Yes, Front 2.0 mp
Gravity Sensor: Yes
Multi-touch: Yes 5 points touch
Flash: Yes, support Flash 11.1
Android Market : Yes
You Tube: Yes
Bluetooth: No

Video: 1080p, avi/mov/mp4/rmvb/flv/mkv
Music: mp3/wma/wav/ape/aac/flac/ogg
Ebook: txt, pdf, html, rtf, fb2
skype: yes
email and browser: yes, built-in
Wifi: broadom, 802.11 b/g/n
3G: Not built-in, support 3g/wcdma dongle
Earphone: 3.5mm
Battery: 3700 Mah
Model: Aurora I
OS: Android 4.0 Ice Cream Sandwich
CPU: Box chip Multi-core A10 1.2G MHz
GPU: Mali400, Full QUAD HD 2160p Video Support
ROM: Internal Memory 8 GB
RAM: 1 GB DDR3
Display: 7″ 1024×600 resolution IPS Full Angle
Multitouch Screen: 5 points Multitouch Capacitive Screen
Camera: Yes, Front 2.0 MP
Input/Output Ports:
Micro SD slot: Yes, Expandable to 32 GB
Mini USB OTG: Yes
Microphone IN: Yes
HDMI Output: Yes
HDD support: Yes 2.5″ , 5 volts
Connectivity: 3G External
WIFI 802.11 b/g/n: Yes
Bluetooth: No

Other Support
Android Market: Yes
Adobe Flash Support: Yes
G-Sensor: Yes
Battery: 4000 Mah