The Certify Wallet app is a free app from Certify.com that is compatible with Android and Apple iOS gadgets which can be downloaded from Google Play Store for Android and from Apple iTunes App Store . It is free to use for personal use and also available for corporate use through their website at http://www.Certify.com.
App Description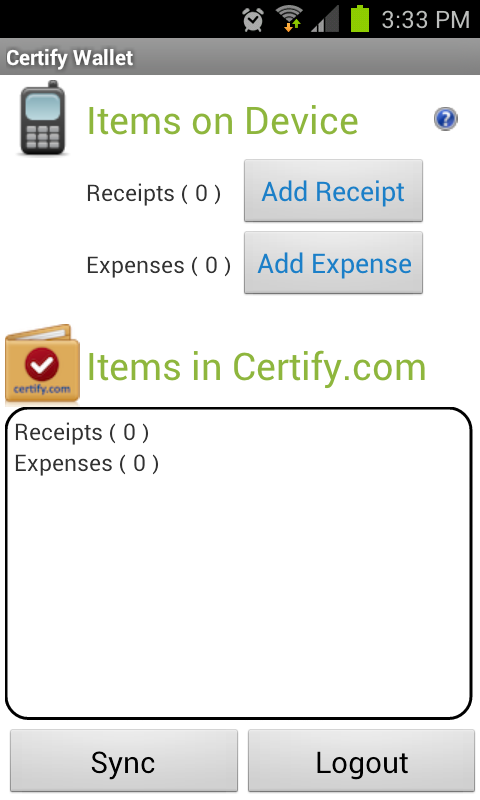 Certify Wallet captures receipts and expenses using your mobile phones giving you a much systematic alternative in stacking and storing your paper receipts avoiding possible lost and provide a system for easy retrieval. It is a perfect companion for individuals and/or companies for business travel purposes that requires expense reporting for submission and reimbursements.
It doesn't require for you to maintain your own sophisticated data storage for all of your expense data because all of it are stored in the 'cloud' providing an easy access of your records anywhere you are with just your internet connection and browser. You can easily generate an expense report using your own currency and submit it for approval or print it for later use. All of these features are free for single users and can be dried by companies for 30 days trial.
Your free Certify account is also capable of accessing the Certify Travel feature of the software on their website allowing you to search for flights, rent a car and even find a hotel – all features powered by NuTravel.
Aside from these features of this system, Certify also introduces their newest innovation in expense management system where their Certify system can now automatically retrieve data expenses from the scanned or captured receipts through the use of their latest technology dubbed as "Certify Receiptparse" where they are the only company that provides the highest parsing accuracy in this kind of data retrieval from images.
Certify ReceiptParse™ in Action
The following shows some videos of Certify ReceiptParse demonstrating the function and use of the latest technology/innovation:
My Rating on this App
My overall rating of this App will be "5 star" or "excellent" for its simplicity, usability and for being innovative.
About Certify
Certify, LLC, is an online travel and expense management company that provides expense report and travel booking solutions to corporations and individuals. The company provides a true SaaS (software as a service) on-demand travel and expense management solution which is easy to use, quick to deploy and affordably priced for clients of all sizes. Founded in 2008, and headquartered in Portland, Maine, Certify is financed by the founding team and a group of angel investors. For more information about Certify please call 207.773.6100 or visit http://www.Certify.com.