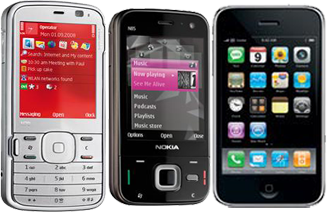 Nokia today reveal the new high-end multimedia cellphones, Nokia N79 and N85. This two new models of Nokia units will be battling against Apple's iPhone 3G. The prize of the Nokia N79 is about $515 (Php23,000+-) while Nokia N85 is about $662 (Php30,000+-). We already know the features of iPhone 3G (click the link if you want to read about the iPhone 3G features) so I will just compare the other two new Nokia units.
Let us start with Nokia N79. N79 is a monoblock multimedia cellphone that weighs about 97g. Its maximum memory capacity is about 4G micro SD card and uses S60 3rd edition as its software platform. It has a 50MB internal user memory. It has a 5 megapixel camera and it can be changed with different available Xpress-on smart covers. Nokia N85 on the other hand is a two way slide unit that weighs about 128g. Its maximum memory capacity is 80G micro SD. Same as N79, N85 has a 5 megapixel camera but with 20x zoom capacity. These are both available by October in other countries but it is not yet available in the Philippines as this time. Both of this high-end phones are still using keypads to operate with the exception of N85 that aside from keypad, it uses Navi wheels for its navigation.
Well, I can't afford to buy them but still if I will ask which of this 3 phones I will chose, I will still prefer iPhone 3G. But this might change my mind if I will find out that Nokia's first ever Touch Screen "Tube" is better than Apple's touch phone. Let just see about this future Nokia touch screen and according to them they will introduce this new phone this year. Hmn, let us find out it later!