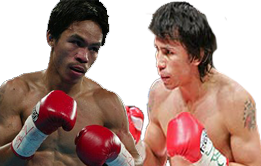 Today, a new lightweight champion on boxing world was announce. Manny Pacquiao stole the belt from Diaz today with a knock-out on round 9 of the match. Pacquiao give another honor to the country and holds the only record. The record in boxing which is holding 4 boxing belts. He rewrite the history of boxing world by being the first Asian boxer to conquer 4 boxing titles.
Actually his planning to stole another belt. Will it be Mayweather versus Pacquiao later or maybe Pacquiao versus Hatton? Well, I've read that Mayweather is trying to make scene on WWE and I don't know if this match will happen. We will see that in the future but for the meantime, Congratulations to Pacquiao!
Mabuhay ka Manny Pacquiao! Hope you will not get tired in giving honor and inspiration to the country!
Update: Manny Pacquiao was challenged by Edwin Valero, a young knock-out artist boxer with 24 wins and no lost record. Even Pacquiao's manager commented that there is a possibility of Pacquaio vs. Valero fight. If this happens, well we will be here again for Pacman to cheer and shout "Knock him down Pacman!" 😀