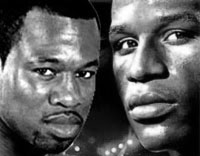 After the Mayweather vs. Pacquiao mega fight failed to happen, each fighters got their opponent. Manny "Pacman" Pacquiao fight Joshua Clottey last March 13, 2010 while Floyd Mayweather Jr. is scheduled to fight Shane Mosley this coming May 1, 2010. Boxing fans and analysts just can't stop from comparing the two match. However, majority of them are saying that Mayweather vs Mosley is a much better much and more interesting compared to Pacman's fight.
On the other hand, Mayweather's fight is not a title fight compared to Pacquiao's fight. It is just a showdown of two boxers proving to their fans and themselves who is the greatest. My guess is that millions of Pacquiao fans and other boxing enthusiasts will surely watch this Mayweather vs. Mosley match it simply because some of them wants to see if someone can put a no. 1 in the "lost column" of the undefeated boxer and if Shane can still deliver and hit hard punches at his age.
Now where to watch Mayweather vs. Mosley, there are a lot of options such as:

watching it online at WatchBoxing.info
on big screen / theaters
subscription to HBO pay-per-view (PPV)
through SOPCAST streaming which I will try to provide a working SOPCAST links later.
watch it in WatchPad. I think they will provide it as the same as they provide the last Pacquiao vs Clottey fight but you are required to sign-up or confirm your intent to watch on their website before March 12 so that they could control how many watchers can watch and how much bandwidth they could prepare.
Wait for its delayed telecast in local channels near you.
Subscribe to LiveSportsTV
Mayweather vs. Mosley HBO 24/7  – the award winning documentary series will premier this April 10, 2010.
Update: Mayweather will return on the ring after an over 16 months rest on the dubbed fight Mayweather vs. Ortiz "Star Power" which is scheduled to happen on September 17, 2011. Click on the link on this line to proceed to the details of the championship match.