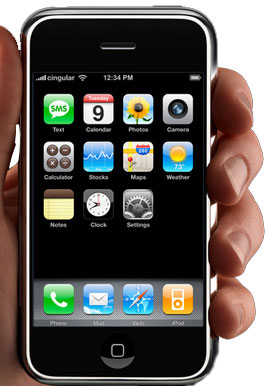 What's so special with iPhone 3G that I'm so desperate to have it on my palm? Maybe, I'm not the only one who feels the same way. Actually other people out there buy it even it's not legally available or even order it from other countries which iPhone 3G is available just to have it. If I have money right now, I might do the same thing!
I know that iPhone 3G in the Philippines is not yet available but Apple already announced that it will be coming soon in the Philippines through Globe Telecom and I think Smart should talk to Apple so they can have rights to distribute and offer it to their subscribers. Wee, I'm really excited about this!
Now, here are some of the reasons that capture my mind and made me to focus on this goal on having it (i promise to myself that I should have it this year whenever its legally available!):
Appearance:
iPhone 3G's slick, slim and black appearance that captures every gadget and cellphone lovers out there.
Its 3.5-inch screen display for watching videos and other multimedia is another plus to its appearance.
Technical ASpects
iPhone 3G is like a small internet-enabled PC on your pocket providing fast wireless internet connection through the fast 3G wireless technology.
It's like an All-In-One device providing, cellphone capability with iPod wide screen and now designed to provide net surfers to browse the internet through this small device directly from their pockets.
Touch Screen control making it more futuristic and super dooper cool. The interface that I only see from movies now on a phone unit.
Now, iPhone 3G provides map services through its GPS, Wifi and cell tower technology.