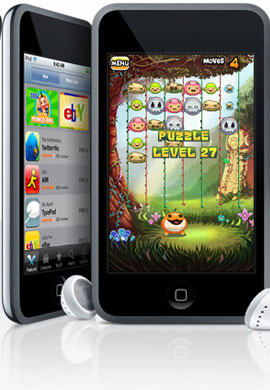 Oh yes! I won an iPod Touch from Busby Web Solutions for the category of "Most Invited Friends". I participate the Busby Seo Challenge and try to optimize my blog for the said key phrase but I can't win so during my idle time I keep on inviting my search engine optimizer friends. Some did join but others did not give any time to make any entries for their blogs. I actually don't know what to say right now. My heart is jumping with joy and this is a good consolation for me for joining the said contest. Despite I did not win the SEO contest at least I have this in my hand. Actually they did not contact me yet on how to claim the said prize but I am already in the process of communicating with the management of the said company so that I can get it as soon as it is possible. Special thanks to Brycec for being patient through out the competition.
Despite this kind of winning is not requiring any skill and this is just a pure luck, still I am happy for this kind of achievement. The real work that I have done here was the search engine optimization process for this blog entry but since I still lack a lot of SEO skills to succeed it, having this winning is worth my time and hard work.
Here's the official statement of Busby Web Solutions which I take from their forum:
Felixberto Baguyo, Jr. is the winner of the most invites competition – Whislt another user managed to invite more people, and have more people sign up – unfortuantely for him – none of those people submitted a website, so we will have to classify them as dummy accounts.

Felixberto Baguyo, Jr. ended up with around half of his friends who signed up submitting sites – be it only 1 valid to win via the rules, there where definitely alot more that had been competing and as such he is the winner of the most invites comp – cheers.
Right now, I am joining another contest called "Cebu Seo Contest" and still I am not surely winning but I can see that my entries are fighting itself up to the engines. I just wish that it reaches its goal which is to grab the prizes of the Cebu Seo Contest.